"How To Sell Your House "as is" At a Fair Price and Close On The Date Of Your Choice! – Even If You're Behind On Payments Or Owe More Than It's Worth!"
That's the title of our new "Free Special Report". It's surprising how fast thinking about selling your house can turn into wanting to sell, and almost over night into needing to sell your house. If this sounds like your experience – you'll find the information in this new Report very helpful. Inside you'll learn many little known techniques we use to buy houses like yours quickly and without all the usual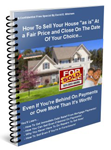 hassles and red tape of the conventional home sales approach.
If you're looking for the fastest and most convenient way of selling your house in today's market,
this 21 page Report outlines options you may not have considered and has some simple strategies to do just that. None of the strategies outlined in the Report are new however, some may not seem familiar to you especially if this is the first time you're learning of them.
That's OK! Don't worry – our programs keep you in control and remember, you can always revert back to your old "foolproof" plan… a Realtor.
You see your Real Estate Agent doesn't use any of the strategies described in the Report simply because none produce a sales commission. Let's face it, the only reason an Agent will come look at your house is for that future commission.
And after all, if they're going to do all the work – don't they deserve the commission?
In This New Special Report You'll Learn How To…
Get Immediate Debt Relief From Your Mortgage Payments!
How You Can Sell Even If You're Behind On Payments!
Why You Never Have To Do Repairs To Sell Now!
How To Sell Even If You're Facing Foreclosure!
Why You Never Have To Pay a Commission or Fees!
And much more .
We hope you'll enjoy the Report and find it's information useful for your situation. You're under no obligation. And as always, please contact us if you need more information. We're here to help you anyway we can!
P.S. I don't know how long you've been trying to sell your house or maybe just thinking about selling, but I do know that every minute you wait, it's costing you precious time and money! If you're finally ready to take control of your situation, read this Special Report and then let us help you find the best possible solution. You'll be a hero to your family and best of all – you'll get back your peace of mind!